It's times like these that I miss having a Target.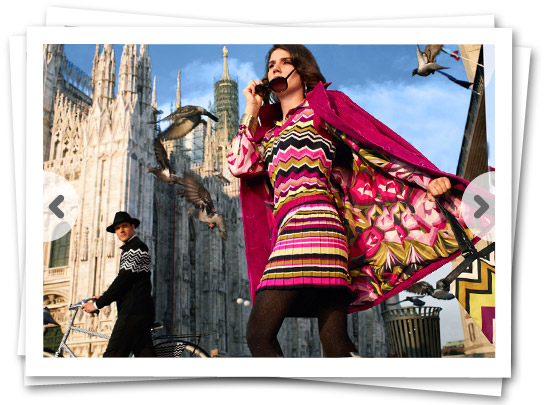 I'm not the hugest fan of Missoni - I can recognize it's aesthetic appeal, but to me it's always looked far too 70s, especially their zig-zag design, the inclination toward crochet-type styling, and the decades old colour combinations. Of course, the 70s are back with a vengeance this fall, so it looks like Target made a very smart decision in teaming with Missoni.
That being said, I actually found quite a few things on Target's website that I like. The best part of this team-up is that, just like Liberty, Missoni has produced more than just women's clothes. There's linens and dishes, house decorations, men's sweaters and ties, girls clothing all in addition to a fairly wide assortment of women's clothing. Oh! And bikes! (which are frankly somewhat hideous, but certainly popular from what I can tell, and would definitely make your bike stand out when you rode it around town.)
I probably won't buy any of them (unless I can coerce my sister or someone to make a store run in the States), but I can admire them online.
Here are my picks from the Missoni at Target line:
The colours here would clash with nearly everything in our flat, and J has firmly told me "no more buying throws", but I think this is rather pretty. And it looks cozy.
$100 is a lot for some spare seating, but I'd love to have one of these in the corner.
There are an assortment of these vases (small, medium, and large) which would make nice decorative accents.
This is one of my favorite pieces. The colours are fabulous and I love to have a variety of serving bowls - they're eminently useful.
J could get a lot of use out of this. Plus, it would add some variety to his work wardrobe.
This is my other favorite. I collect scarves, and this one is a mix of some lovely colours.
I'm not pregnant and we don't have kids, but I want to buy this just for the eventuality.
It's SO CUTE.
A good sweater dress is a nice thing to have in your closet, and this one is definitely interesting. Here, the styling is much more 60s mod. I like it, but I would probably play down the pattern a bit with a neutral cardigan. If you're someone who would play it up a bit, this dress really is the look that epitomizes the Missoni brand.
I wonder whether this looks much better online than it will in person. The 'chiffon' looks never carry through well in quality in these diffusion lines. I do like this tamer play on the Missoni zig-zag.
I can only really imagine this as sleepwear since it is
short
. I do wish they had a tank top that was cut like the top half of this romper; I'd be all over that in a second.